Kindred Place at Harrisburg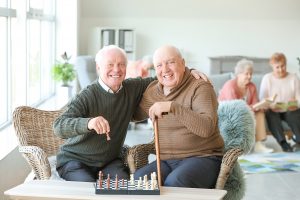 Choices, Extras And A Lifestyle You'll Find Only At Kindred Place
For a wonderful lifestyle that offers comfortable living, financial flexibility, personalized support services and confidence and security in your future, there's no better place than Kindred Place. You'll discover friendly, welcoming neighbors in a nicely tucked away location that's close to metropolitan opportunities and where a unique type of caring supports your independent spirit. Kindred Place offers exceptional value, lifestyle opportunities and security that our competitors simply can't match.
You've earned the right to choose the path you want and there's no better place than Kindred Place to find it and follow it. Relax and enjoy a leisurely dinner with new friends, go for a stroll through our beautifully manicured grounds or just kick back and take in the mountain view as you ponder the day's pursuits. One thing is certain: wherever you are or whatever you choose to do, you'll experience a warm welcome and uncommon spirit of camaraderie living at Kindred Place.
Enjoy yourself with complete peace of mind. Kindred Place helps you hold onto the assets you've worked hard to earn. We've eliminated the usual entry fee and you'll rent your well-appointed apartment. With no hefty upfront fee required, you'll control how you want to invest your retirement egg.
Maintaining control of your finances is just the start of amazing value. We believe your time is also valuable, so we've adopted a visionary approach to supportive services and care that will free you to pursue your own lifestyle without worry—and with the option to stay at Kindred Place if you should require more care. Our approach will allow you to stay in your new home, even when you need day-to-day help. That's because the care comes to you. The on-site UCC Homes Health/Home Care agency staff is available all day, every day. Better still, you can affordably customize your care, paying only for the time that's needed—as little as fifteen minutes or as much as a task requires! Receiving care at home also means that couples can continue to live together in the same apartment, even when a spouse needs more assistance.
At Kindred Place, you'll experience the lifestyle amenities and features you expect and you'll choose from a one or two bedroom residence, each with a full-size washer and dryer and a fully equipped kitchen. You'll have the opportunity to dine each day in a lovely restaurant setting with an expanse of windows that frame gently rolling hills. Nearby you'll find city shopping, banking and medical services, with transportation available. It's all provided by a financially stable, not-for-profit organization that has served central Pennsylvania for more than 50 years. It is the best of all worlds…and it should be your world!